Anaxy Star Professional pharma grade Dry-Herb Grinder
World's most Creative All in One Grinder | Stores, Grinds and Dispenses Tobacco and Dried Herbs.
The ANAXY STAR is made of different materials such as aluminum, polycarbonat and neodymium magnets. The 2 grinding blades are out of hardened aluminum with a anodized finish to ensures the finest cut herbs. The transparent dispensing module (FUNNEL, CAP, PIPE) and the colored storing module (FLOWER, LID, STAMP, KEY) are out of policarbonate. This material makes these parts flexible and therefore unbreakable, to ensure longevity. ​ What keeps all thread-less parts together are 5 strong neodymium magnets.

Blade is Made From Aluminum Rod. (Aircraft Grade)
9 piece thread-less parts, connected through Powerful Neodymium Magnets
Medical patients can easily measure their consumption
Ideal for Vaporizers and pre-rolled Cones
Patented Technology, Designed in Austria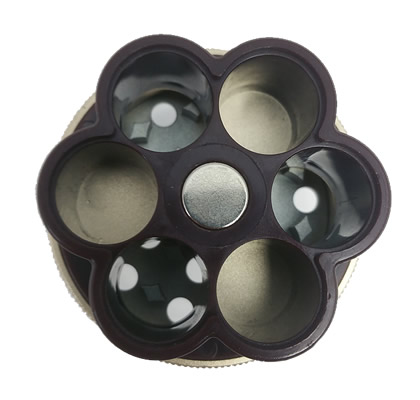 The ANAXY STAR Herb Grinder stores, grinds and dispenses dried herbs in one device and is made of 9 threadless parts, solely connected through magnets.
​
Its modular design makes it easy to clean the individual pieces. The ANAXY STAR is the first Herb Grinder that stores different strains and grinds them separately, which makes it ideal for medical patients who need different medications.
​
The main feature is the dispensing module, which guides the ground herbs directly into any smoking accessory without touching them. This keeps the workspace and fingers clean.
​
To enjoy the medication to the fullest, we left out the screen so that each shot contains a little bit of the desired pollen.
​
The measuring CAP helps to dose the medication and hygienically fill any device, such as Vaporisers and Bowls.
​
The PIPE attachment transforms the ANAXY STAR into the only herb Grinder that easily fills pre-rolled Cones.
Reviews