Custom Vape Products Design & Manufacturing Process
E-cigarettes are becoming more and more popular as people increasingly understand the adverse effects of smoking and embrace vaping as a less-harmful alternative (and one that smells much nicer). Because there is no smoke involved, there is no lingering odour, and no second-hand smoke for passersby to inhale. You can vape discreetly nearly anywhere and still enjoy your nicotine fix while not offending everyone in the immediate area. These advantages have made vaping a much more socially acceptable option than smoking.
We want to make vaping available to everyone who wants to quit smoking, which is why we design and manufacture a wide range of top-quality products using the latest technology and best materials. We understand that our customers are folks who want a cleaner alternative to cigarettes, one that doesn't present the same problems but still provides equal enjoyment, right down to the act of holding your device in your hand and inhaling and exhaling – benefits you don't get with nicotine replacement products such as gum and patches.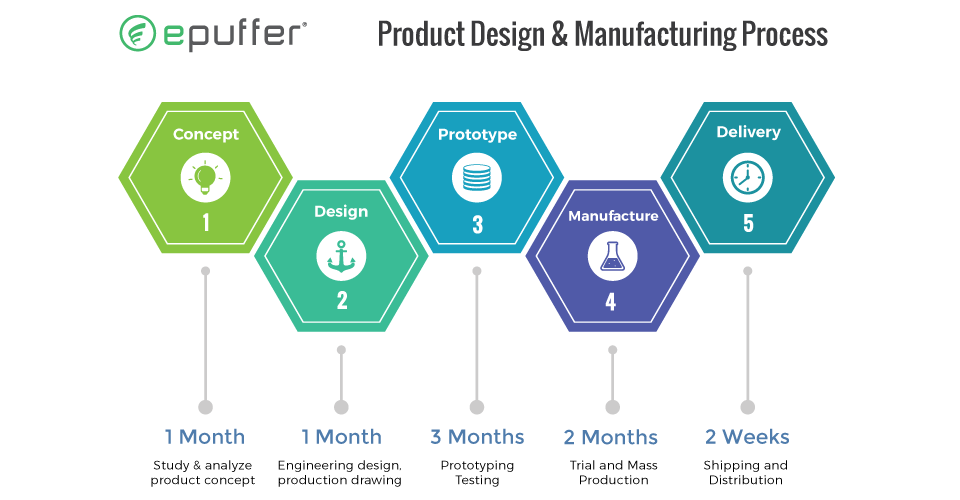 At EPUFFER®, all our models are designed and manufactured in-house because we want to sell only the best to our customers. This also means that if you have a specific requirement, we can satisfy it through a custom order; simply let us know about your needs, and we'll do our best to accommodate them.
Certifications:
We can also design and produce white-label products using our OEM service. That means, for example, we can create an e-cigarette, e-cigar with your company logo for you to use as a giveaway or promotional item for your business. Depending on the market or the event, our products can make unexpected, exceptional, and fun items to use as freebies or marketing items.
Contact us today to discuss your needs, and a friendly team member will be happy to help.