Electronic Pipe ( e-Pipe 629X ) Limited Edition
Dear Customer,

We're excited to announce the optional Flat LED Cap for E-Pipe 629X model is available for sale now!

Thank you for your continuing patronage.

ePuffer Management
Already famed globally for electronic cigarettes and vaporizer technology, ePuffer have now launched a new electronic pipe that promises to taste as good as it looks.
ePuffer has updated the e-pipe 629 version for the fifth time for its loyal fans who are looking to update their current model. Vapers can now indulge in a luxury usually reserved for the elite for a blue-collar price.
Added Value for You
This model is predicted to be an international best-seller and prime choice among vape enthusiasts for its high performance and sleek design. Boxed neatly in Mahogany finish MDF gift box, this new electronic pipe is decadent and sophisticated. Presented as a gift, it will surely please the recipient as it is obviously a present of the highest quality.
Is this model customizable?
The new e-Pipe 629X is a step up from the former fourth revision because it caters to our clientele on a whole new level. The new top filling tank structure and removable stem are just a few of frequiently requested features our Customers have asked for. We are still packaging the gold and silver tanks in the same kit. With the X model, clients can choose which color they would prefer for the trimming on the tank and bowl so as to match their e-pipe with a chain or watch band. This adaptable e-pipe will seamlessly become an essential component of your wardrobe, regardless of your chosen attire for the evening, and will surely enhance it.
There is no need to buy cartridges as refill is simple while there's no loss of the smoking experience when drawing on the ePipe 629 model. Along with the health benefits, as this provides a better alternative to smoking, it is also very attractive and makes a great gift.
E-Pipe 629X Specifications - What's new?
The ePuffer Electronic Pipe (e-Pipe 629X ) Limited Edition - New model boasts a new atomizer with a state-of-the-art micro sub-ohm 1.0Ω resistance tank for better throat hits. These atomizers reduce resistance and increase vapor production, but still won't create the kind of clouds associated with advanced box mods. The intense flavor with each puff will have you coming back again and again for more! So, you will recognize this pipe by its unrivaled elegance and effortless wooden design, but you will admire it anew for its subtlety and simplicity. It is designed with the more experienced vaper/smoker in mind who wants to enjoy a satisfying vape without any of the cloud-chasing. Our new tank provides a warmer, more intense flavor every time without having to cloud up the entire room where doing so would be unwelcome.
E-Pipe 629 X Starter Kit Content
2pcs. - High Drain IMR-1100mAh Rechargeable Lithium Batteries
Spare Silver Liquamizer 629 X ( Clearomizer ) Tank with Mouthpiece Stem
1pcs. Spare Silver Trim Flat Cap
1pcs. Spare Gold Trim Flat Cap
5pcs. Micro Sub-Ohm Atomizers rolled in Japanese Organic Cotton
Universal NITECORE Rapid Battery Charger 110/240V
Wooden Giftbox
Instruction Manual
New Epipe 629 X Liquamizer MOD Tank Specification
Tank Capacity: North America: 3ml, UK/EU: 2ml ( TPD Ready )
Connection Thread: 510
Atomizer ( New micro sub-ohm ) coil resistance: 1.0 ±0.1 Ωohm
Tempered QUARTZ Glass Tank - Anti corrosive & high temperature resistant 1700°F - 2200°F
Length: Tank 42mm, with e-pipe mouthpiece: 109mm
Diameter: 19mm

Features and Improvements
Protected Direct Airflow system
Zirconia Crystal LED Cap ( Black Crystal Sold Separately )
Liquamizer ( Clearomizer ) Tank technology with replaceable micro sub-ohm heating coils
Delivers great vapor production, rich flavor and smooth draw.
New X Model Improvements
Redesigned Tank structure - Top loading for easier refill and maintanance
New 1.0 OHM micro sub-ohm Atomizer, increase Vapor volume by 20%
New Plug style removable Mouthpiece & Updated Pipe Bowl chamber
Both Classic Gold and New Modern Silver Trim Colors are now included.
The new E-Pipe 629X is a luxury product at an affordable price that offers an intense, flavorful vaping experience with all the class of a traditional pipe.Our new 5th. revision is our best model yet, and, fit for a true gentleman, this new vape will have you turning heads.
Please note! The Epipe stand is not included and shown for illustrative purposes only.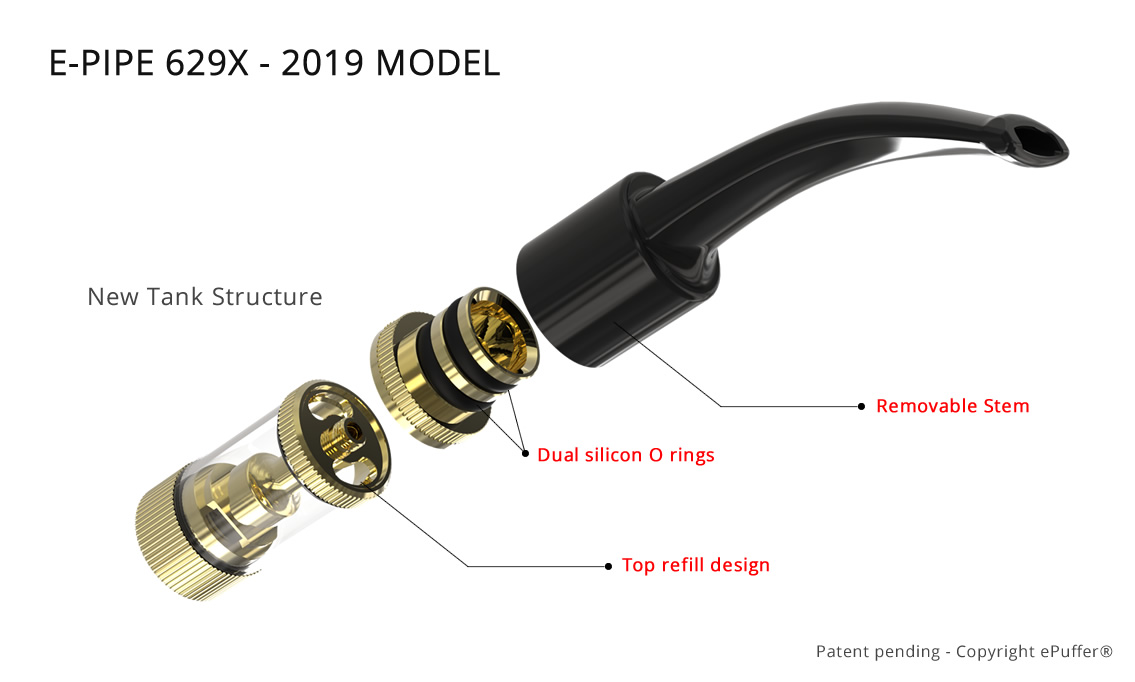 Reviews
Video gallery
ePuffer Electronic PIpe 629X 2019
ePuffer Electronic Pipe 629X 2019 updated
ePuffer Electronic Pipe 629 R2 2017
Techical Specs and Features